About the Springfield First Aid Squad
Twenty-four hours a day, seven days a week, the Springfield First Aid Squad provides Emergency Medical Services (EMS) to the residents of Springfield, those who work and play in our town and those who are "just passing through."
The Squad was founded on March 18, 1949. However, we have changed with advances in emergency medical service techniques and technology. For example, cardiopulmonary resuscitation (CPR) hadn't been invented when the Squad was formed. Basic life support (BLS) agencies could not use defibrillators in New Jersey until the mid 1990s. Our goal has remained the same: to provide the highest quality care to our patients.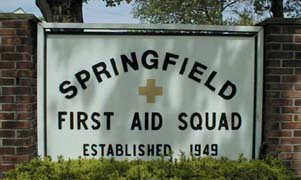 Unlike other emergency services in town, the Springfield First Aid Squad is a non-profit, tax-exempt organization separate from the Township of Springfield. Donations from residents and businesses are critical. We have expenses involving vehicle and equipment purchases & maintenance, training, and supplies.
However, the Squad's greatest need is people. They are the most important ingredient in the mix needed to provide quality care to our patients. No prior experience is needed to volunteer. The Squad provides the training, either in-house or by paying the costs associated with training programs run by other organizations in the area. This includes your initial training through EMT certification as well as continued education. Membership requirements are:
age 16 or older,
good physical health and
an interest in helping others.
The First Aid Squad provides all the training, uniforms, and liability & life insurance.
The Squad also hires per-diem EMT employees to supplement our volunteer workforce and ensure round-the-clock coverage of our town's EMS needs. Candidates must have prior 9-1-1 EMS experience.

The Springfield First Aid Squad provides services to the Township of Springfield which was founded in 1793 and is the oldest town in Union County, New Jersey. You should not confuse us with Springfield Township in Burlington County.