Ambulances and First Responder/Utility Vehicle
The Squad owns and operates three ambulances, referred to as 57, 58 and 59. We also have a first responder/utility vehicle designated 51.
First Responder/Utility 51
51 is a 2010 Ford Expedition SSV and serves as our utility vehicle. Personnel use it to get to and from meetings and training, as well as to move equipment. Need to get snow melt in the winter or drop an ambulance off for service, 51 will get you there and back. The truck is also equipped for emergency response. A trained EMT can use it to respond a scene to start care before an ambulance arrives or to bring extra assistance to a scene.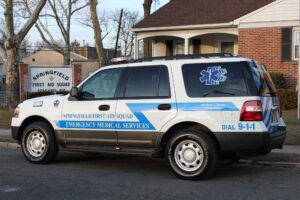 As with all of the Squad's equipment, donations were key to the purchase. Much of donation was made In Loving Memory of Lee Adler, a Springfield resident that was killed in the World Trade Center on September 11, 2001, and the vehicle is dedicated to former Squad member Ilya Fasman.
Ambulance 57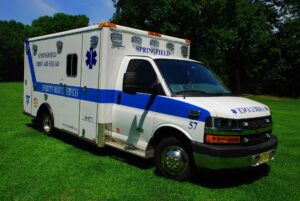 Ambulance 57 is a Horton model 553 Type III ambulance. It was built on a 2014 Chevy Express G4500 chassis and delivered to the Squad in April 2015 by VCI Emergency Vehicle Specialists. The purchase was prompted by increasing calls for an ambulance in Springfield. It's arrival marks the first time Springfield operated three ambulances in 65 years.
Ambulance 58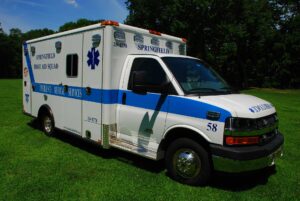 Ambulance 58 is also a Horton 553 Type III ambulance, mounted on a 2016 Chevy Express G4500 chassis. With a layout identical to 57, these two ambulances are our frontline apparatus.
Ambulance 59
59 was built on a Chevrolet G3500 chasis, by Braun Industries, and delivered in October of 2007 by First Priority Emergency Vehicles. This purchase was made possible through a generous contribution from Investors Savings Bank Charitable Foundation, from the trade-in of our 1997 Ford ambulance (the previous-generation 59) and from money from the Squad's capital reserves, collected through the donations from members of the public. It currently serves as reserve apparatus, used when 57 or 58 are either both on calls or out for maintenance.
Safety first
All of our vehicles feature a blue-and-white, retro-reflective chevron (an inverted "V" configuration). This makes the back very visible on highways. Even before you are close enough to know it is an ambulance, you know you want to avoid the obstruction in the roadway.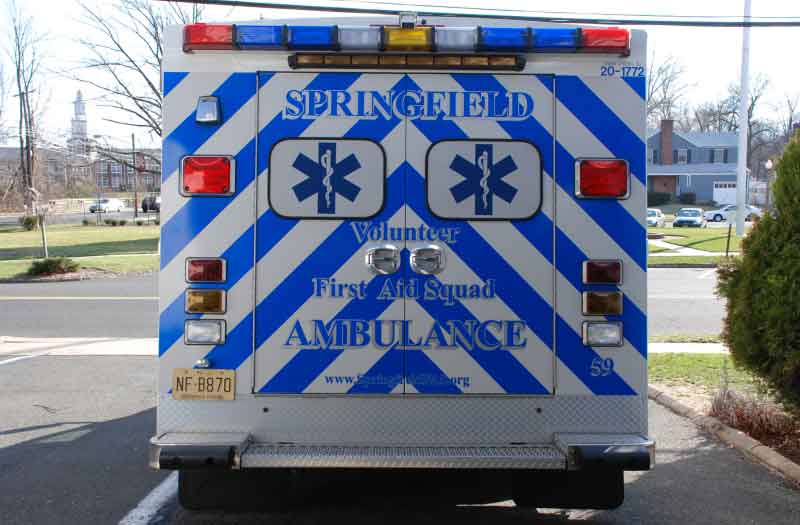 Ambulance 59, during the day,
and at night, with just the momentary flash from the camera.
A fully-equipped ambulance can cost $250,000.
Your donation helps ensure we can buy the next ambulance.
All three of the Squad's ambulances are equipped with a Stryker Power-LOAD, powered cot fastener, and Power-PRO XT, powered ambulance cot. With a 700 lb. patient capacity, the system helps minimize back injuries to EMTs while loading and unloading a stretcher and patient.